EMPLOYMENT
Robertson's Flowers & Events is committed to providing a work environment which nurtures talented individuals. Our mission is to ensure that every customer's experience with Robertson's Flowers & Events is absolutely perfect. And this mission drives everything we do. We offer a competitive compensation package, including health insurance, 401(k) and store discounts.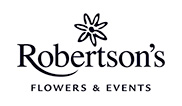 Do you have integrity and passion of excellence?
Currently, we have 3 locations to staff:
Wyndmoor (Greenhouse & Design Studio, Headquarters)
Chestnut Hill
Bryn Mawr
Please send resumes to:
Robertson's Flowers & Events
Attention: Human Resources
1301 E. Mermaid Lane
Wyndmoor, PA 19038
Email: jobs@robertsonsflowers.com
or Click Here to Download an Employment Application
Available Positions
Retail Store Sales Associate
A part time position as a sales associate in our retail stores.
Holiday Drivers
Flower and Gift Basket delivery in and around the Philadelphia Area. Based out of our Wyndmoor location.
Holiday Design
Part time design position during Holidays at our Wyndmoor location.