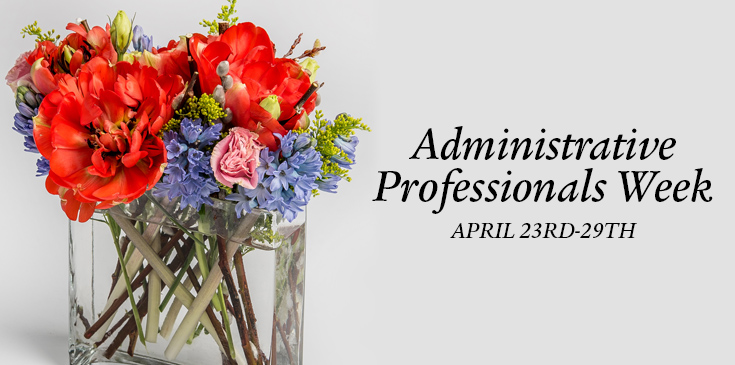 Administrative Professionals Week was instituted in the 1950's as a way to fill the many empty office positions in growing post-war businesses. Although originally established as National Secretary's Day, the initiative grew to encompass a full week of observances and to include a range of professionals – from administrative assistants to front desk receptionists. These days, the week-long celebration is meant to honor all of those professionals who support others in the office. After all, these are the people that truly make the business run smoothly day to day. We don't know where we would be without these dedicated and diligent individuals, and that is reason enough to celebrate Administrative Professionals Week. At Robertson's Flowers, we have the sophisticated, elegant, beautiful and thoughtful designs you will need to let your most valuable employees that you couldn't do without them.


Succulents are exotic gifts that make a dramatic aesthetic statement, yet are so easy to care for and maintain in an office environment. Choose from our collection of succulent gardens, available in many sizes and styles, and arranged in beautiful stone ceramic containers. We'll even send easy-to-follow care instructions, so your employee will be reminded for many months to come how much you appreciate them.
Small floral designs in compact cubes and cylinders are perfect for adorning desks and cubicles. Choose from a wide array of beautifully vivid flowers that will bring the vibrancy of nature indoors – we think they will love Tulip Twist, Limelight, or Lavender Mist, shown below.

Do you have an extra-special employee? Orchids are a professional yet exquisite addition to any desk – and are sure to let your administrative professionals know how special they are! Choose from single or double stems – or perhaps your assistant deserves an entire orchid garden! Whatever your selection from our orchid collection, you can be assured that they will feel appreciated and honored. Regardless of your price point, we can create a design for you. Just give us a call!
Research shows that employees who feel valued and appreciated are more productive, take more positive initiative, and are happier overall. This Administrative Professionals Week, take the opportunity to thank them, and to make a positive investment in your own Philadelphia area business – stop by Robertson's Flowers or browse our online selection.