Delivery by 1pm today available. Order within

3 minutes

details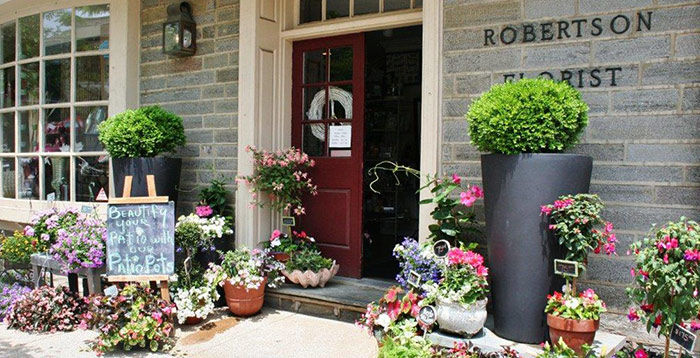 About Our Flower Shop
Robertson's Flowers & Events is the trusted local Philadelphia flower shop, delivering flowers and gifts to Chestnut Hill, Bryn Mawr, Wayne, Malvern, Villanova, Haverford, Cherry Hill, Doylestown, and surrounding Philly areas. We offer same-day local flower delivery to Philadelphia, PA, and surrounding cities!
We have a perfect gift for every special occasion & holiday, including birthday, anniversary, new baby congratulations, corporate gifts, & holiday gifts. From roses, orchids, tulips, lilies, and other exotic or tropical flowers to green and flowering plants and blooming garden baskets and delicious Robertson's Flowers gift baskets including fruit gifts, gourmet cheeses, or decadent chocolates & treats.
Robertson's Flowers & Events also offers express delivery to all Philadelphia Hospitals and Funeral Homes. We have cheerful get well flowers and a wide selection of sympathy and funeral flowers including funeral wreaths, floral sprays, and sympathy baskets or arrangements.
Robertson's Flowers & Events also specializes in nationwide floral delivery. Order online or call us at (215) 836-3050 for flower delivery anywhere in Philadelphia or around the country!
Our
Philadelphia

Location

Address:8501 Germantown Avenue
Philadelphia, PA 19118

Phone:(215) 836-3050
ZIP Codes Served
08002, 08003, 08033, 08034, 08052, 08054, 08057, 08108, 08109, 08110, 18901, 18902, 18914, 18929, 18936, 18938, 18940, 18954, 18966, 18974, 18976, 19001, 19002, 19003, 19004, 19006, 19008, 19009, 19010, 19012, 19018, 19020, 19025, 19026, 19027, 19031, 19034, 19035, 19038, 19040, 19041, 19044, 19046, 19050, 19053, 19063, 19064, 19066, 19067, 19070, 19072, 19073, 19075, 19081, 19082, 19083, 19085, 19086, 19087, 19090, 19095, 19096, 19101, 19102, 19103, 19104, 19105, 19106, 19107, 19108, 19109, 19110, 19111, 19112, 19114, 19115, 19116, 19118, 19119, 19120, 19121, 19122, 19123, 19124, 19125, 19126, 19127, 19128, 19129, 19130, 19131, 19132, 19133, 19134, 19135, 19136, 19137, 19138, 19139, 19140, 19141, 19142, 19143, 19144, 19145, 19146, 19147, 19148, 19149, 19150, 19151, 19152, 19153, 19154, 19301, 19312, 19319, 19333, 19341, 19342, 19345, 19355, 19373, 19380, 19382, 19401, 19403, 19405, 19406, 19407, 19422, 19425, 19426, 19428, 19436, 19437, 19444, 19446, 19454, 19456, 19460, 19462, 19468, 19477, 19490