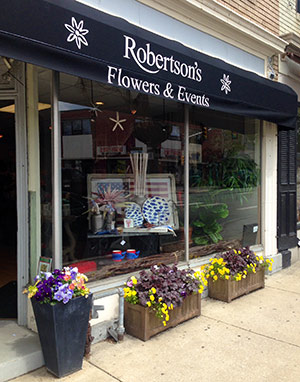 In 1927, George Robertson and his eldest son, Charles, opened a landscaping firm in Chestnut Hill servicing many wealthy families and large estates in the area. After experiencing immediate success, George purchased a building at 8339 Germantown Avenue in 1929 to make more room for his growing business. While George and Charles focused on landscaping, George's daughter, Janet, began adding fresh cut flowers to the business.
As Robertson's continued to grow, so too did the need for more space. In 1935, the Robertson family moved the burgeoning business further up the Avenue into 8341 Germantown Avenue, and then again in 1949 to the present location at 8501 Germantown Avenue, in the heart of Philadelphia's Chestnut Hill area. At this new location, the Robertson family decided to move away from landscaping and focus on its thriving flower division. It is here that Robertson's established its esteemed reputation and discovered its core passion - providing only the highest quality flowers and plants in ever-creative designs, all while offering superior customer service. Today, over 90 years later, Robertson's Flowers & Events proudly remains Philadelphia's premier florist and continues to set the standard of excellence in the industry.
Led today by Flip Ferry and Sandy MacEachern, George's great-grandchildren, Robertson's Flowers & Events continues to be family owned and operated four generations later. With its history and reputation, Robertson's remains a legendary name in Philadelphia that is synonymous with excellence. Named "Best Florist" by Philadelphia Magazine and Main Line Today and one of the "Best Places to Work" by the Philadelphia Business Journal, Robertson's has long been recognized for its outstanding work. It also remains one of the most active local florists in the Philadelphia International Flower Show, where the company has won numerous "Best in Show" awards throughout its 45-plus years of participation.
Now headquartered on over three acres in Wyndmoor, housing its greenhouses, design studio and consultation spaces, and with retail locations in Chestnut Hill and Bryn Mawr, Robertson's Flowers & Events offers an unrivaled ability to serve its valued customers. We hold true to our mission statement established almost a century ago: to provide our customers with a superior experience and the highest quality product, guaranteeing satisfaction by focusing on attention to detail and flawless execution.